A great news for my newly-weds: a proof book will now be included in each of my wedding packages. But I can already hear you asking: 'what is a proof book ?' Keep reading if you want to find out.
What is a proof book ?
By definition, a proof book is a print physical proof of all your digital wedding photos. It is highly popular with american photographers and it provides the following benefits:
– I provide bridegroom couples with the digital files of their wedding. They are very happy about this – not all photographers do that – but that also means they could potentially look at the photos on a poorly calibrated screen or print them with a bad printer. The proof book is therefore a security for myself because it is showing how the photos are supposed to look like once they are printed with the right colours. For newly-weds, it represents a reference for when they want to print the photos themselves.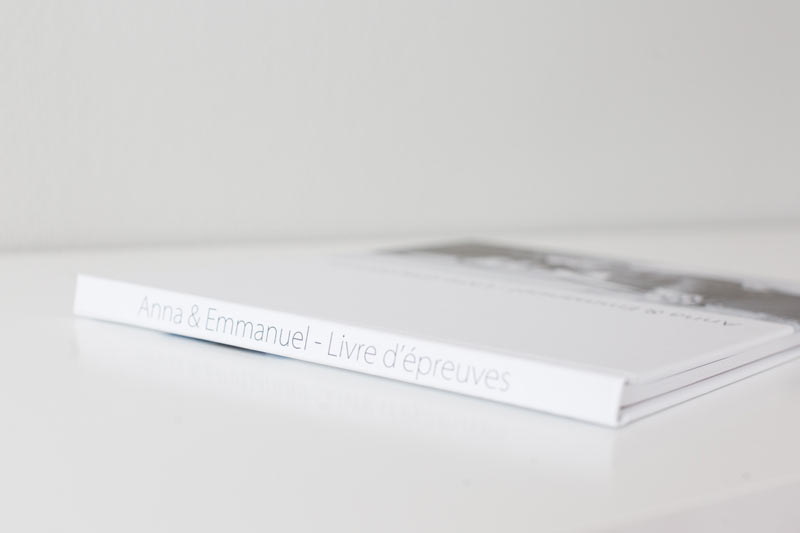 – usually I provide around 400 photos to my clients. This can take a long time to flipping through all of them on screen. Having all of these photos printed in a book is a lot more friendly and it is also faster to skim through. Newly-weds can also take the book to people who don't have a good internet bandwidth – typically at their grandparents !
– each photo is indexed with a number showing in the caption. It is a communication tool for myself, the photographer, and my clients. Indeed when comes the time to select the photos for the wedding album, it's important not to make mistakes regarding which photo should appear in the album.



The proof book is printed in a 20x25cm format on premium photo paper. It has a hard cover and its quality is very good indeed. As a bonus, I always include a few full-page photos in the beginning of the book.